Shared Hosting
·
·
E-Commerce Hosting
·
·
·
Special
·
·
·
·
·
Guarantee
·
·
Low cost VPS hosting
Overview
Starting at $20 per month, you can get ultimate flexibility and control of your server, and individually allocated resources to make sure everything on your VPS server is running at optimum levels.
Datacenter: East-coast (McLean and Springfield, Virginia) or West-coast (Seattle, Washington).
Control Panel: cPanel - Unlimited Domains ($14/mo) or Parallels Plesk - Unlimited Domains ($12/mo)
Operating System: Linux Red Hat Enterprise, CentOS, Debian, Fedora, Ubuntu, Windows 2003 (32-bit and 64-bit)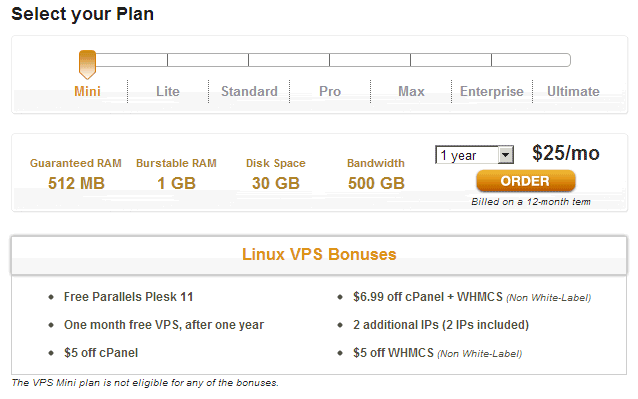 Add-Ons:
Additional IP; $2.00/month
RapidSSL Certificate - 1 Year 29.00
Geotrust QuickSSL Premium Certificate - 1 Year 119.00
With the latest server hardware, a fully-redundant nationwide network infrastructure, and 100% uptime SLA, we are committed to delivering the best possible cheapest dedicated server hosting experience. Our award-winning 24/7/365 service ensures you are up and running at all times with ultimate performance, security, and speed. Stay Ahead of the Rest with low cost dedicated servers—now, at half the price!