Shared Hosting
·
·
E-Commerce Hosting
·
·
·
Special
·
·
·
·
·
·
Guarantee
·
·
Low cost dedicated servers hosting
Overview
Dedicated servers to suit every need from small to large-scale sites, web hosting & hard core gamers. Ideal for remote backup solutions.
Datacenter: East-coast(McLean and Springfield, Virginia) or West-coast(Seattle, Washington).
Control Panel: cPanel WHM ($30/mo) or Parallels Plesk($25/mo) or Parallels Small Business Panel($18/mo)
Operating System: Linux Red Hat Enterprise, CentOS, Debian, Fedora, Ubuntu, FreeBSD
Windows 2003, Windows Server 2008(Web $15/mo, Standard $25/mo)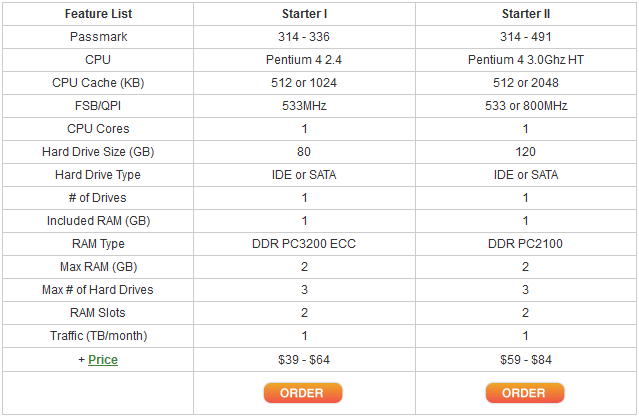 Additional discounts are available for the following billing terms:
Monthly - 0% off setup fee; 0% off monthly fee
3 Months - 25% off setup fee; 2% off monthly fee
6 Months - 50% off setup fee; 5% off monthly fee
12 Months - 100% off setup fee; 10% off monthly fee
Add-Ons:
Managed backup - $0 setup fee; $49/month
Managed firewall - $49 setup fee; $49/month
Dedicated Cisco firewall - $49 setup fee; $95/month
RapidSSL Certificate - 1 Year 29.00
Geotrust QuickSSL Premium Certificate - 1 Year 119.00
Geotrust True Business ID with EV - 1 Year
KVM over IP Switch
What is dedicated server?
Dedicated server refers to the rental and exclusive use of a computer that includes a web server, related software, and permanent connection to the Internet, housed in the web hosting company's premises(data center). We also offer cheap vps servers from $25 per month.
With the latest server hardware, a fully-redundant nationwide network infrastructure, and 100% uptime SLA, we are committed to delivering the best possible cheapest dedicated server hosting experience. Our award-winning 24/7/365 service ensures you are up and running at all times with ultimate performance, security, and speed. Stay Ahead of the Rest with low cost dedicated servers—now, at half the price!
Note: cheap dedicated servers are provided by superb.net